Smart watch chargers
There are two types of chargers you can use with your Samsung smart watch: a flat charging dock or a charging dock with pins. The type you need depends on which model watch you have, and the correct charger will come with your watch. If you don't have a compatible Samsung wall charger, they can be purchased separately. 
Flat charging dock
This type of charger usually comes in the box with newer watch models (2019 or newer) and is compatible with the following: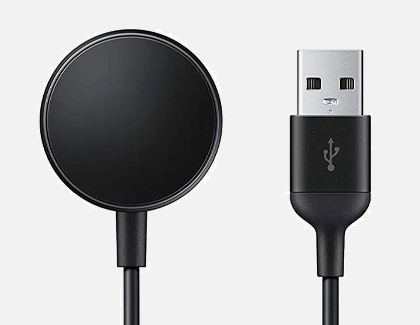 To use a flat charging dock, simply plug in the USB end to an adapter, and then plug that into a power source. Place your watch (facing upward) on the magnetic dock and allow it to charge.
Wireless Charging dock
This charger is usually included with older watch models (2017 and 2018). The following watches can be used with this type of charging dock: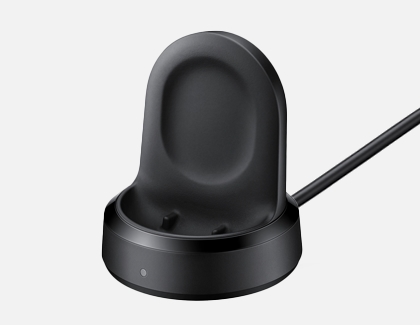 To use this charging dock, plug it in and then place your watch inside the dock. Allow the watch to charge. If the charger comes with an LED indicator, this light will let you know when the watch is fully charged.
Charging dock cradle
The Galaxy Fit2 comes with a unique charging cradle that doesn't work with any other type of watch. To use it, plug the charger into a power source. Then, place the Fit2 inside of the cradle and allow the fitness band to charge.
Replacement chargers for the Fit2 are not available for purchase. If you are having issues charging your fitness band, please see the "Best practices for charging your watch" section.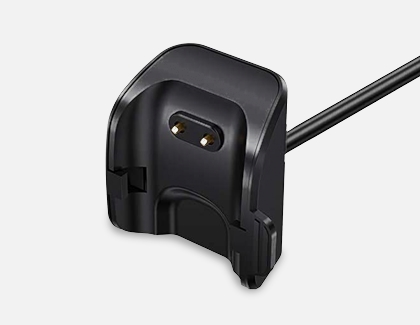 Other ways to charge your watch
Wireless power sharing
Some watches are also compatible with Wireless power sharing, which allows you to place your watch on the back of a Galaxy phone to charge it. This is very handy when your watch has a low battery but your charger is out of reach. Check out our guide on Wireless power sharing to learn how to use this feature.
Newer models that support Qi technology will be able to use Wireless power sharing. The following watches are compatible: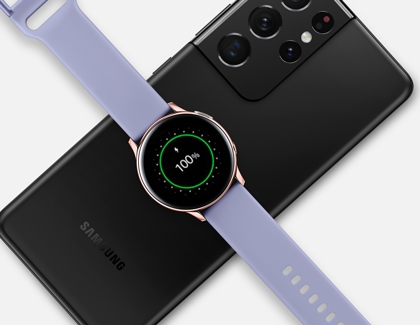 Wireless charging pads
In addition to regular watch chargers, you can also buy charging pads, some of which can charge multiple devices at once, such as your smart watch and Galaxy phone! Just plug the charging pad into an outlet and place your device(s) on top.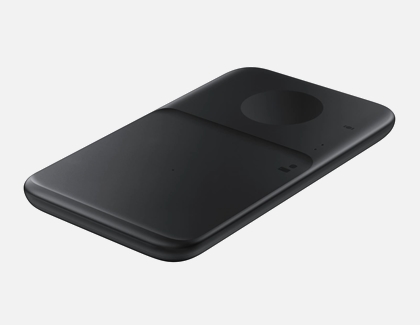 Note: The Galaxy Fit2 can only be charged using the charging cradle. It does not support other charging methods.
Best practices for charging your watch
If you're having trouble charging your smart watch, you can review the following tips to make sure you're using your charger correctly.
Samsung reccomends using a compatible Samsung wall charger with the charging dock that matches your watch. Wall chargers can be purchased separately.

When using a wireless charging dock, please be aware that any metal or magnetic materials (e.g., coins, magnetic cards) placed between the watch and the wireless charger may decrease charging efficiency. These materials placed between the watch and wireless charger may also cause damage to the watch or charger.

When using a wired charging dock, always check whether any foreign objects are in the connector or plug, as they may prevent charging or cause the dock to overheat.

When using Wireless power sharing, you may need to remove accessories or covers from your phone. Try not to move the phone or the watch while the watch is charging.

 Information Sorced from Samsung Website